These great & beautiful pics come from Antoni Murcia one of our Coyote Village's B&B and Hostel guests. This is from his first trip from La Paz to San Felipe. He has just completed his second trip…I cannot wait for the latest pictures. Antoni Quote: "The Sea of Cortez is a treasure like no other. If you are willing to play by the rules of the air, sun, moon and water it will reveal to you all of its secrets."

These pictures should be enough motivation to get you to vacation here in Loreto, the City of LOVE, PEACE, EQUALITY & HOPE. When in Loreto please book your accommodations at Coyote Village B&B and Hostel. Enjoy these wonderful pictures.

Thank you Antoni for your great eye.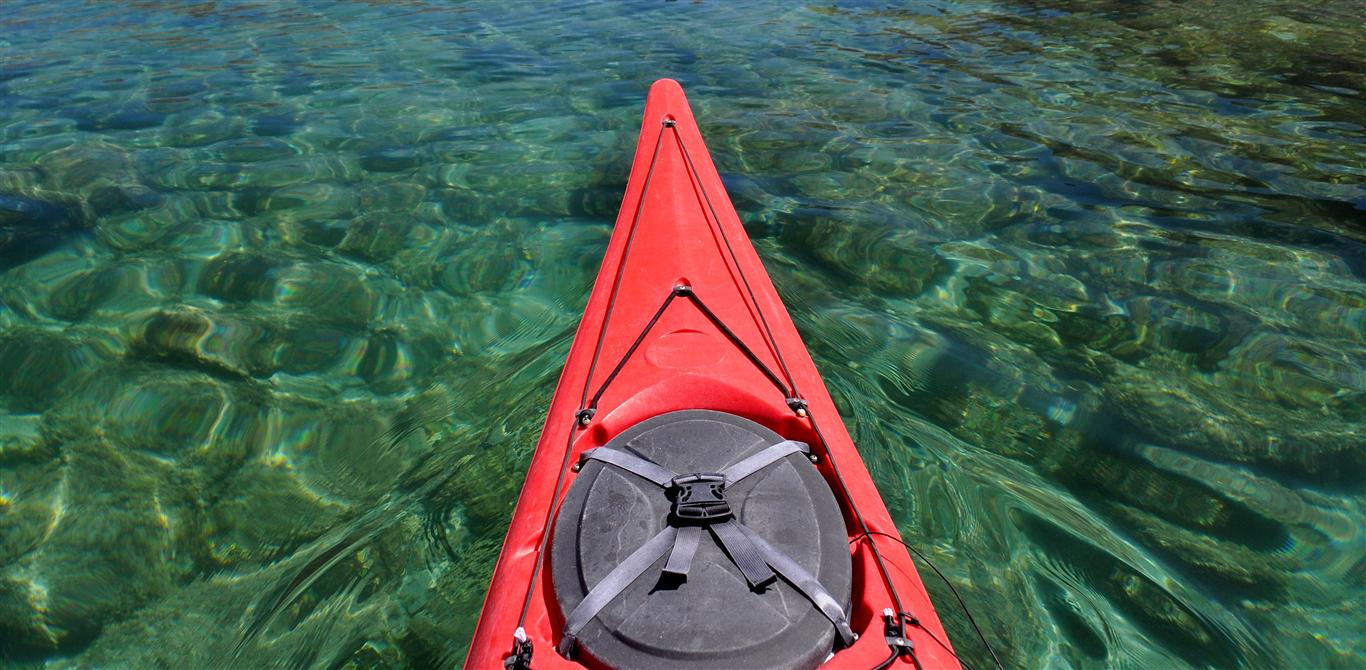 To view all of his pictures click here or on a picture!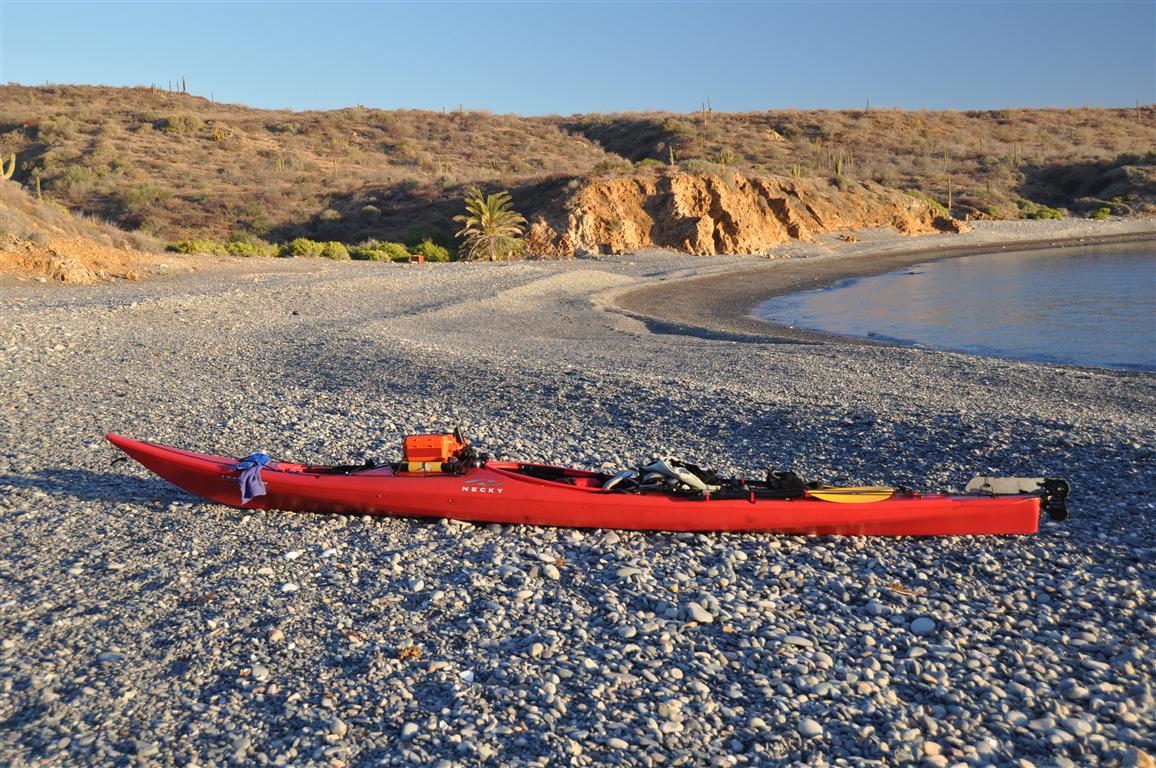 MULE TRIP:
You will be traveling on mules, through parts of the original El Camino Real that runs through the Sierra Giganta mountain range of Baja Sur by authentic Vaqueros. You will camp out in the desert or on land belonging to Rancheros where they still live by traditions that have been carried on for over 300-years. Your leader will be Trudy Angel, a seasoned outfitter who has been riding/exploring these areas for over 20-years and has developed a very special & privileged rapport with the Vaqueros and their families who live in these remote areas. Attached are some Mule Trip pics.
CONTACT TRUDY AT:
Cell-613 100 8438 www.tourbaja.com
E-mail tourloreto@aol.com
TELL THEM COYOTE VILLAGE SENT YOU.

FISHING/DIVING:
Loreto Sea & Land offers fishing trips year as well as whale watching during the spring months. They are also known for their kayaking and diving (PADI dive instructors). Their bilingual staff have been working in the Loreto area for over 15 years. They also offer snorkeling tours of the nearby islands, as well as day trips to nearby missions, canyons and cave paintings. Bicycles, Kayaks and Stand-Up Paddle Boards are available for rent/instruction. They offer discounts for large groups and for multiple days of activities.
Attached are some fishing/diving pics.
CONTACT SARA AT: toursloreto@gmail.com www.toursloreto.com
Cells 613 114 7294 613 117 4107 Office 613 135 0680
TELL THEM COYOTE VILLAGE SENT YOU.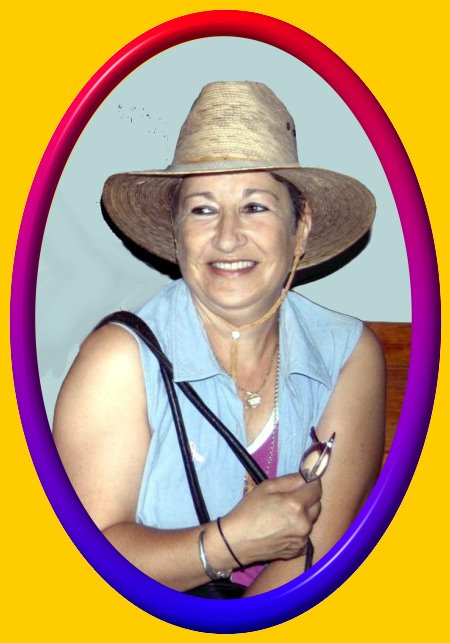 YOU WILL BE ON TOURS WITH JUDY LEIGHTON.
These hysterical (oops) historical tours are just simply amazing.
Judy will be your personal guide for walking tours of Loreto and tour of Mission San Fco Javier in the Sierra La Giganta Mountains.In addition, Judy also does detail tours of Santa Rosalia & Mulege (two must see small villages) along with whale watching tours to the Pacific lagoon of Bahia Magdalena and San Ignacio.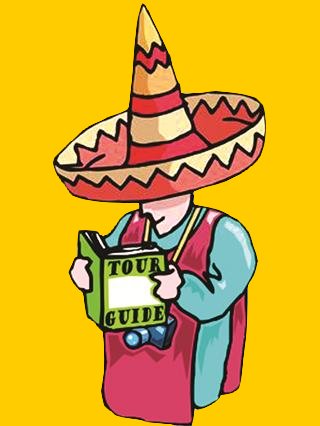 She is one of the best tour guides I have ever met.
CONTACT JUDY: judy_leighton@hotmail.com Skype: judy_leighton
Office phone- 613 135 2419 Cell--613 104 2501
TELL THEM COYOTE VILLAGE SENT YOU.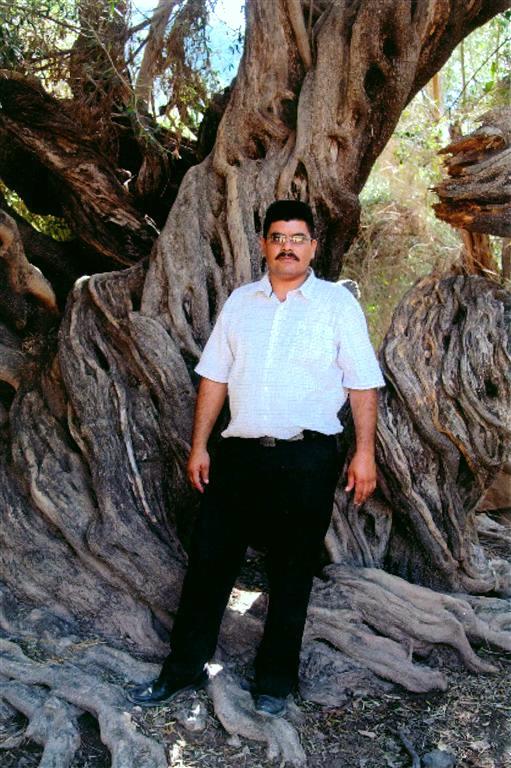 GUIDED TOUR OF THE SAN JAVIER MISSION:
Oscar, an English-speaking tour guide for this adventure will take you & family/friends to see the Mission and other natural sites along the way, which is about 25 miles from Loreto. In the late 1600's it became the site of the second Spanish Jesuit Mission in California founded by Padre Francisco Maria Piccolo.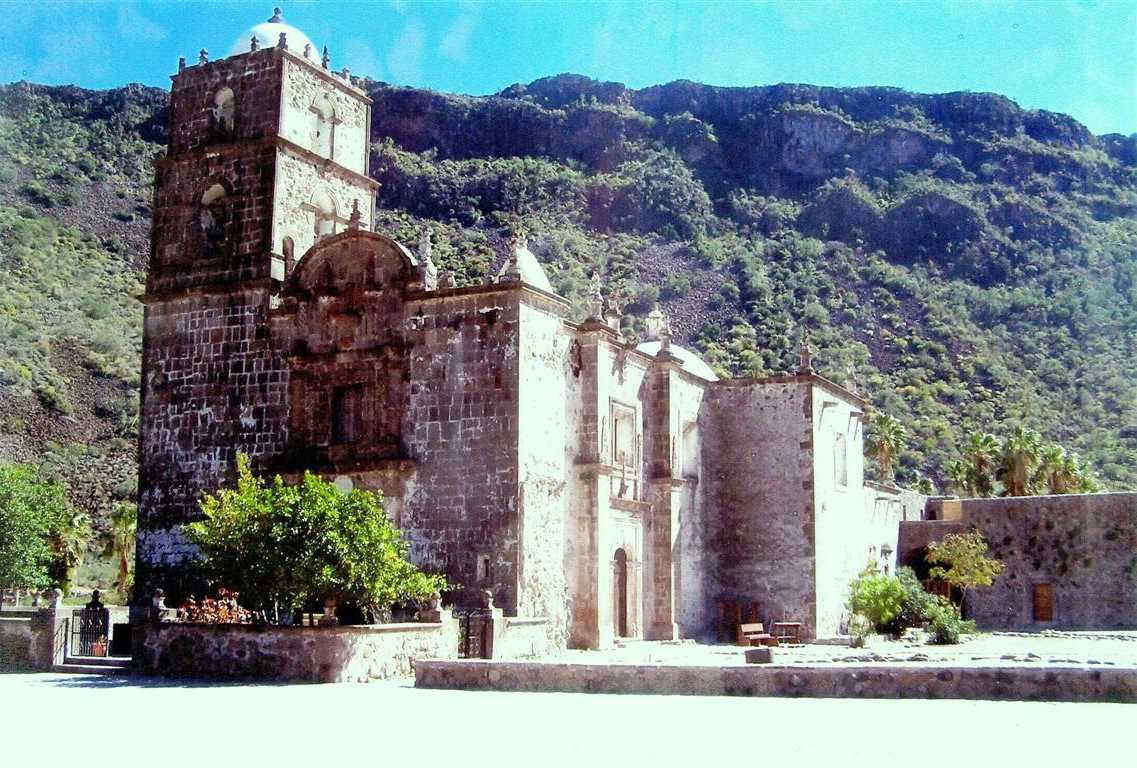 The mission was built from 1744--1758. So, if you like history or architectural tours this is one for you. The Oscar tour can last from 4--6 hours (includes travel time), depending on your pleasure. In his taxi, Oscar will provide an ice chest of water, beer, soda, juice and wine. There is a small restaurant in San Javier where you can eat OR after the San Javier tour, Oscar will take you to his parent's ranch where you can watch the goats being milked, learn how goat cheese is made and be served a wonderful traditional Mexican meal by Oscar's mother.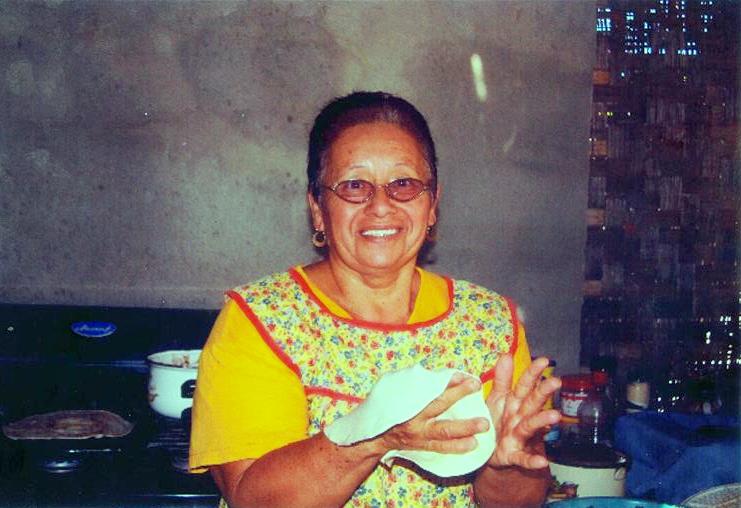 Prices, depends on the size of the group and how long the tour last.
Please contact Oscar at:
CELL LORETO: 044 (613) 109 7156
CELL USA: 011 1 521 (613) 109 7156
HOUSE: (613) 135 0801
TELL THEM COYOTE VILLAGE SENT YOU.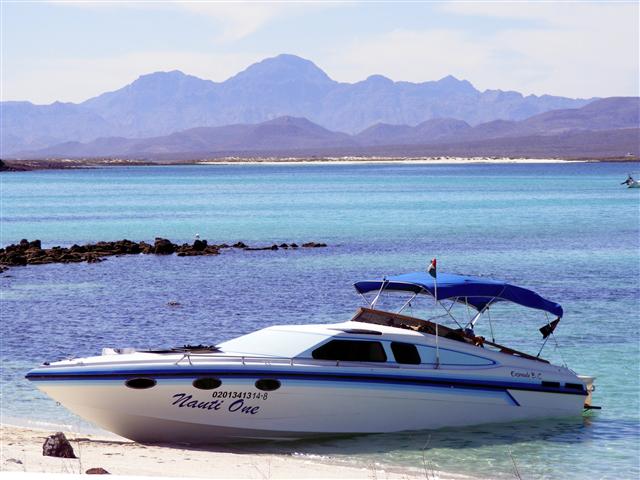 Baja Yates (pronounced: yah-tes) Internacional
NAUTI ONE
As you are walking down the dock ramp, you start to feel the excitement of being on the water. What you also anticipate is that it is going to be on one of the most beautiful offshore boats ever made. She, Nauti One, is truly a sleekcraft babe of a boat. She is ready for you to enjoy the Sea of Cortes and find your dreams with the Mantas. Manta rays that is. Inside you find your space to be soft and rich with relaxation written all over. Blue on Blue is the color with a touch of teak to accent the edges. Food, Drinks, Music, what else does it take to make someone happy. Throw in a couple dozen dolphins, a band of 'Lobo' Sea Wolves and pristine white sand beach on a volcano island and you got paradise. That is what Baja Yates International does. It brings Nauti One and you together for the dream to become your reality. There are over the top capabilities that we bring out when asked for but you have to really know what you want before you can get it, right. Ok, here it is---

There you are, sitting on that same white sand beach, warm soft breeze, the Sea is a mirror that only you and who you are with can even describe, and that is not even close to the reality you are truly experiencing first hand. You have food that is from out of this world good and fine spirits to sooth you palette. A sound of live music, a guitar that sounds so incredible, you find yourself forgetting to breath. The waiter smiles as the guitarist knows he has done his job brilliantly. When the waiter asks if everything was to your liking, you can only smile as the waiter graciously says, " Thanks for Being Nauti in Loreto"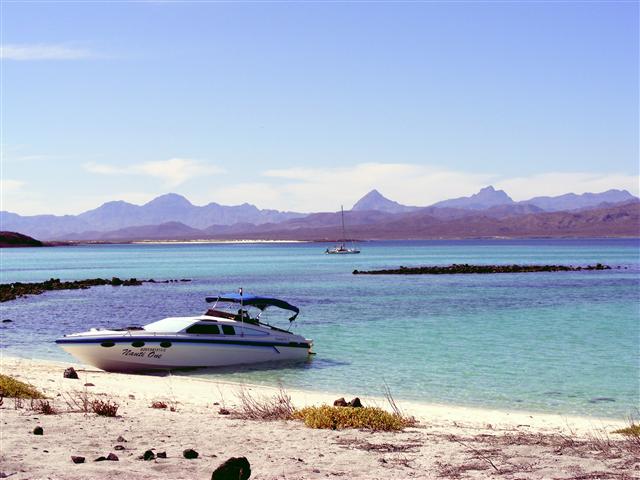 CONTACT: Brett Forrester at bayayates@yahoo.com
Phone: English—613 113 8116 Spanish—613 113 9939
Website: www.nautiinbaja.com

TELL THEM COYOTE VILLAGE SENT YOU.

OUR FAVORITE RESTAURANT: Do Me's Bar & Restaurant.
Why is this one our favorite? Because WE OWN IT!!!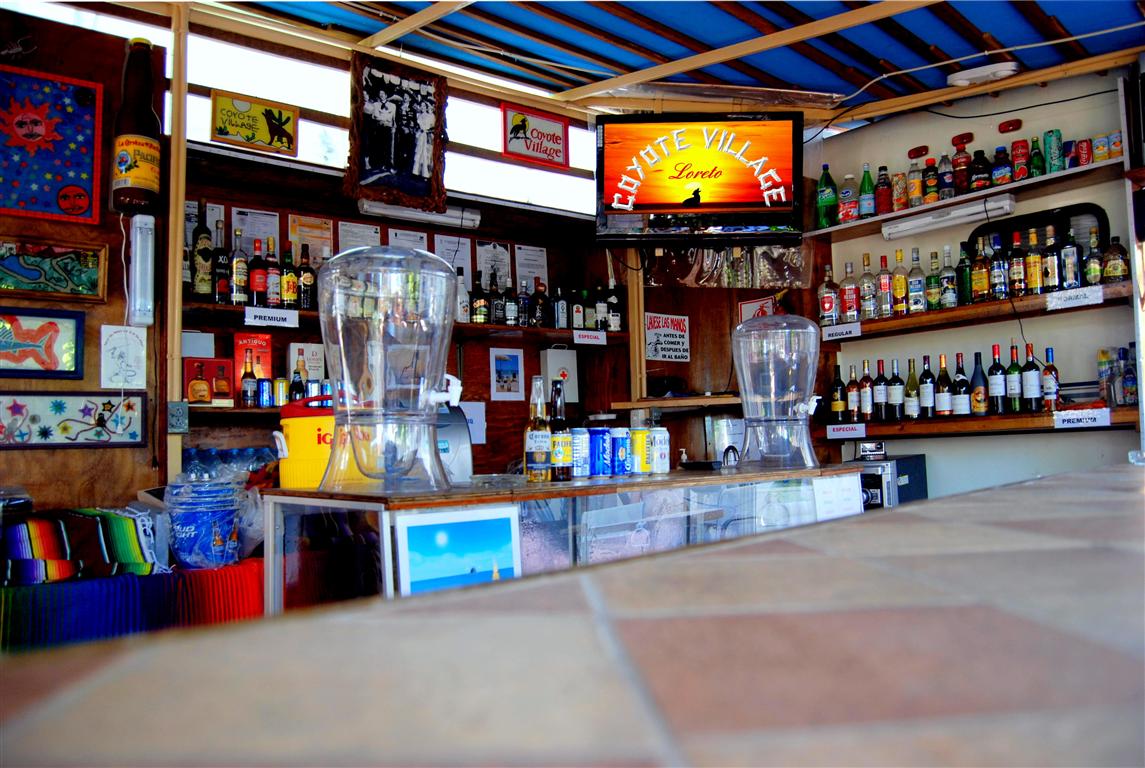 Located in the Coyote Village B&B and Hostel compound.
Do Me's Bar & Restaurant is closed from the middle of June 2012 until early January 2013 due to the economic conditions currently in Loreto and the lack of tourists.
Do Me's Bar & Restaurant is currently closed
due to the economic conditions in Loreto and lack of tourists.
Customers rave about & love our Tomato soup—Chicken veggie soup & tomato soup---Hot Dogs (dog and a half) ---Lasagna—stuff zucchini with double cheese & ham quesadillas.
You will not just love the food but also the prices.
And, the customers love our SUPER-CLEAN bathroom.
CLICK HERE & CHECK OUT OUR REVIEWS:
CONTACT: 613 114 1193.

OUR NEXT FOUR FAVORITE RESTAURANTS IN LORETO ARE:
1. CAFÉ OLÉ
CAFÉ OLE Seems as if they have been here since the beginning of time. Great food and even better prices. We love their breakfast menu. Example: Huge three egg omelet with ham & cheese with a side salad and fries. It is huge, cheap and taste soooooooo good.
Located at the town square across from Bancomer
CONTACT: Rosa 135 0496
TELL THEM COYOTE VILLAGE & DO ME'S BAR SENT YOU.

2. EL CAFE DE LOLITA
An Italian & European breakfast & lunch menu --- very unique & very good, run by husband & wife. Great sandwiches, salads ect. all with the European touch and flavor. Super clean kitchen, great service. Huge servings & good prices.

Located just off the Malecón: Salvatierra, a media cuadra se El Malecón (613) 135-0961

TELL THEM COYOTE VILLAGE & DO ME'S BAR SENT YOU.

3. SEA COFFEE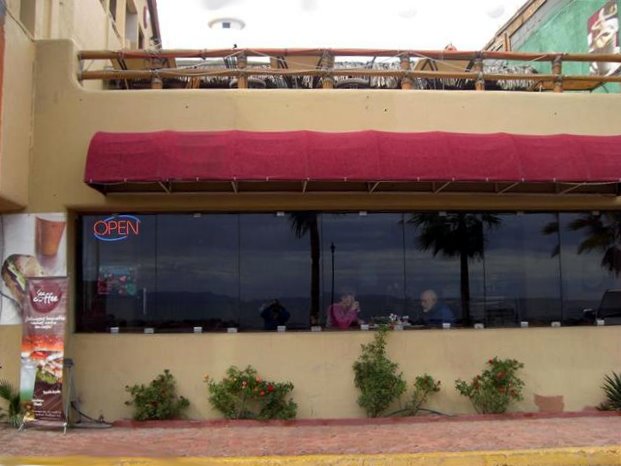 Best place in Loreto for coffee and cake (cappuccino—espresso—latte). They also serve great smoothies. How about a Fruit Tea Smoothie Blast? Or, a 20 Degree Below White Chocolate Decadent Tea? And they serve Baguette Sandwiches ALL DAY. Great service, good prices, best place in Loreto to relax and meet new friends. Did we mention the awesome view?
Located just off the Malecón
CONTACT: 044 613 111 7556 seacoffeeloreto@live.com
TELL THEM COYOTE VILLAGE & DO ME'S BAR SENT YOU.

4. LOS MANDILES DE SANTA LUCIA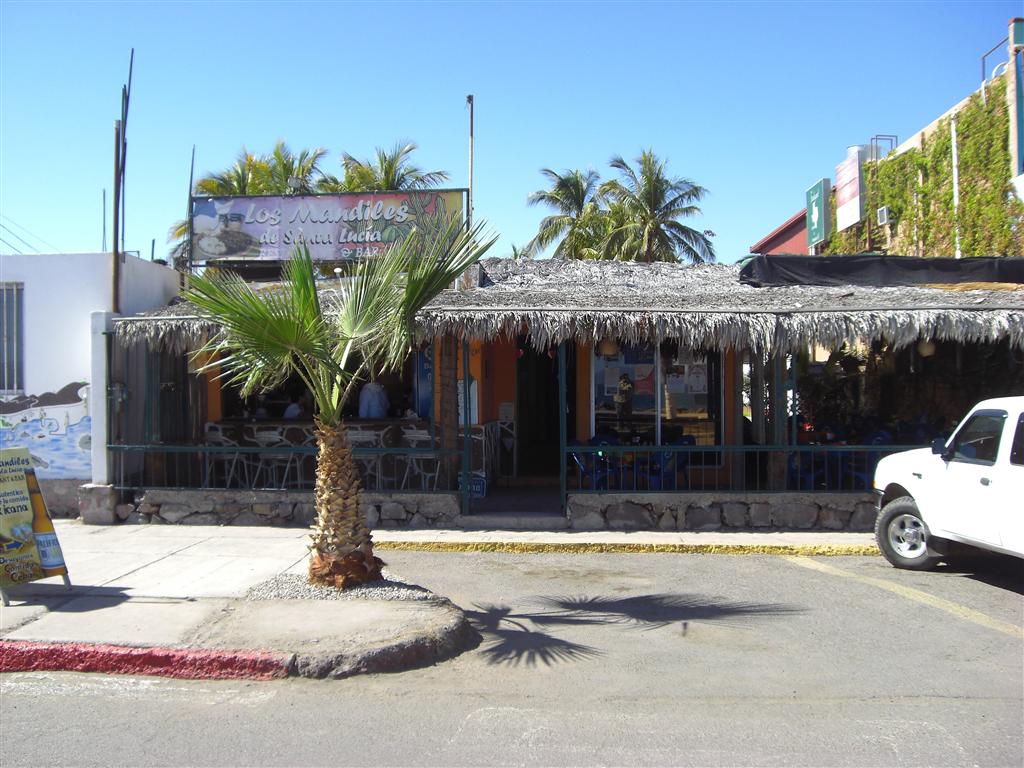 All homemade Mexican food and the food is great. Huge servings with good prices. Open for Breakfast, Lunch & Dinner. Great service. All their dishes have the authentic Mexican home taste. Want a filling meal? Then visit this great restaurant.
Located on the Malecon.
CONTACT: Maru 044 613 105 8581
TELL THEM COYOTE VILLAGE & DO ME'S BAR SENT YOU.

OTHER GREAT RESTAURANTS IN LORETO:
DEL BORRACHE SALOON 044-613-137-0112
1697 RESTAURANT 135 2538
CAFÉ DE LOLITA 135-0961
DOMINGO'S PLACE 135-2445
GIGGLING DOLPHIN 135-0914
LA PALAPA 135-1101
LORETO ISLAS 135-2341
LOTUS CAFÉ 135-0704
ORLANDO'S 044-613-113-6678
MEXICO LINDO 135-1175
PORTO BELLA 131-8001
SUPER BURRO 135-1243
TIFFANY'S PIZZA 044-613-104-1859
TELL THEM COYOTE VILLAGE & DO ME'S BAR SENT YOU.



We are recommending Silver Desert as the best silver store in Loreto for your silver shopping needs. Not only do they have awesome silver jewelry but they also have silk clothing items. We have personally bought both silver & silk here and were very satisfied. Their silk items are just amazing.

Silver Desert brings you the most authentic and unique pieces in sterling silver by law, carefully selected from designers and artisans from all over Mexico to guarantee you only the best in quality.

El Caballo Blanco
You want a book? Do you like to read? Need another book while in Loreto? Then there is ONLY ONE place to go for books: New Baja Books on the main street right next to Alexander Real Estate & Investments.

Jeannine is the owner and such great human being. Jeannine is also an author & an artist. She has thousands of books.



Make it part of your must see stops while in Loreto. Sit down and share a Baja Tale.

CONTACT: 613 116 5374 (Cell) jeannine1220@yahoo.com

TELL HIM COYOTE VILLAGE & DO ME'S BAR SENT YOU.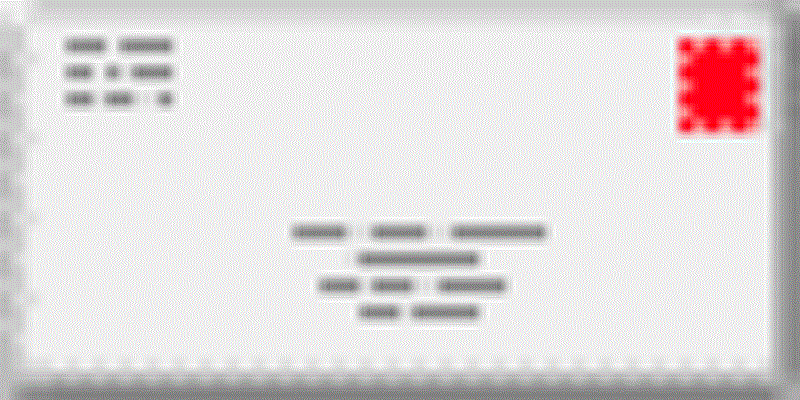 coyoteresort@hotmail.com  (E-mail)